Luxury Swimming Pools
The World's Best Luxury Swimming Pools
Top Features of High End, Million Dollar Swimming Pools
Waterfalls
What luxury swimming pool would be complete without a waterfall? Perfect for naps or reading, waterfalls drown out unwanted noise and provide a constant flow of peace and serenity. Luxury swimming pools make that quantum leap from good to extraordinary when they have a waterfall.
For a luxury home, waterfalls must be carefully planned; movement will immediately attract the eye's attention. The waterfall, in fact, should be one of the most carefully planned aspects of the entire pool setting. Nothing will attract more attention from your visitors sense of sight and sound.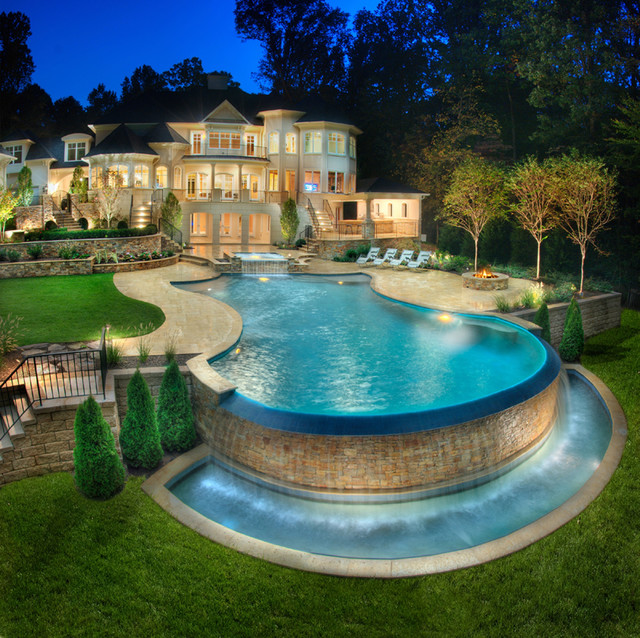 http://worldinsidepictures.com/wp-content/uploads/2014/07/98.jpg
See-through Walls
If you've always wanted to know what fish in aquariums feel like, see-through walls will make your luxury pool the ultimate backyard exhibit. See through walls add an aesthetic that can't be matched by traditional in-ground pools; they're perfect for enhancing luxury swimming pools in an indoor/outdoor setting.
Especially prevalent in oceanfront locations, pools with see-through walls can light up a shore when viewed from the ocean. With a mixture of proper lighting and architecture, these pools are gaining in popularity for people seeking the ultimate in luxury real estate.
http://www.freshpalace.com/wp-content/uploads/2013/02/Luxury-Property-Cape-Town-South-Africa-See-Through-Pool-Walls-Outdoor-Living-Space.jpg
This pool was designed by a company that specializes in luxury swimming pools http://www.barrington-pools.com/luxury-swimming-pool-design.html
The Double Decker
http://s-media-cache-ak0.pinimg.com/736x/00/47/ea/0047ea045dca59d11d70a622e22ed5c3.jpg
Want some time apart from the kids? Send them to the upper level while you take an adult swim in the lower. The double-decker is perfect for large social events in your luxury home.
Ever been in this situation? Some people want to play pool volleyball, others don't. Now, there's no need to fret. One group plays up top- the other group relaxes below. No more volleyball pool disputes, ever again.
Sculptures & Statues
Depending on the setting, statues can add a touch of formality and elegance. Of course, you can never cheap-out on a statue. In a luxury home, you have to go big or go… never mind.
More traditional luxury swimming pools will often feature  human statues. Many ultra-luxe pool settings feature anything from Italianate lions to abstract art. In a luxury pool, the more expensive the material used, the better.
Statues also are well complemented by natural elements, such as gardening & landscaping. Pool designers often will work together with landscape architects to combine man-made statues with natural elements. Though more traditional feeling, you can't go wrong with this look:
http://findoo.net/1259/tips-for-english-garden-design-so-lovely-can-be-a-challenge-both-in-the-upkeep-and-also-the-creation.html/elegant-english-gardens-troy-mi-design-with-garden-statue-in-swimming-pool
Gazebos
Add a touch of modern elegance with a gazebo by your luxury pool. Perfect for when the sun is too intense and you just want to relax outside.
Furniture will be required to place under the gazebo. Wicker is common in many luxury homes, but not just any brand. Brands like Hampton Ivory or Sanibel will set you back, but it will be worth the price you pay for both the look and feel of quality that these brands will bring to your poolside setting.
http://homedisgin.com/wp-content/uploads/2015/04/swimming-pool-modern-gazebo-for-swimming-pool-luxury-wooden-gazebo-and-pergola-designs-with-seats-for-modern-pool.jpg
Hidden Speakers
You know what they say about movies; 50% is visual, 50% is audio. The same is true about luxury swimming pools. In order for a complete pool experience, make sure whoever builds your pool is working with a top-of-the-line audio equipment provider. They should understand the mechanics of sound and how sound interacts with the environment.
Failure to use a professional for sound installation can result in poor quality. Think about your favorite rap song, then take out the bass.
Programmable LED Lights
Perfect for night time swims. LED lights can make or break the feel of your pool at night time. Consider the vibe you would get from this pool without different color tones: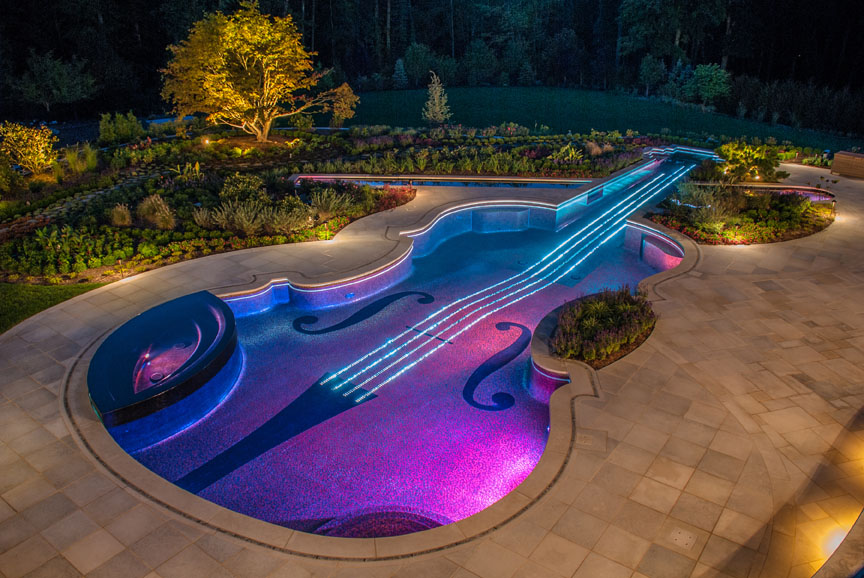 http://ww1.prweb.com/prfiles/2013/11/19/11351831/%20Luxury%20Swimming%20Pool%20Design%20and%20%20Installation%20Award%20Bergen%20County%20NJ%20LED%20lights.jpg
It just wouldn't feel right without those deep blues & purples! Pool lights can be programmed to change automatically- to put on a light show. Understanding the proper balance between colors and their temperatures can add enough touch to make the difference between just another luxury pool and a masterpiece.